As of this past Wednesday, my baby sister is officially on the list for a liver transplant. Which, when I heard the news I broke out sobbing and my husband thought it was bad news until I could choke the words out.
She is at the very top of the list for her blood type meaning it can all go fast. In fact, and this is the horrible side of it, this weekend is one of the highest when it comes to mortality rates. Meaning my sister very well could get her new liver this weekend.
Which is good because she's going downhill fast. Her kidneys are failing, she's having trouble breathing, and she's losing a lot of blood. They are fighting to keep her going but she needs a liver asap or she won't live long enough to get a transplant.
If you pray, please pray that the liver comes NOW and please also pray for the donor family. They are losing someone they love, and that someone is giving my sister life.
Also, please be safe this holiday weekend. I don't want any of you to be the donor.
This week in my store: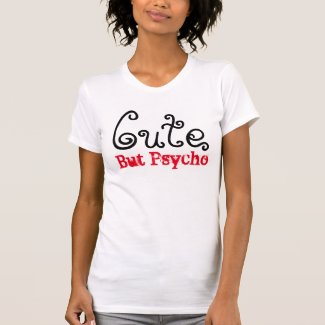 Cute But Psycho T Shirt by Wearables4Edibles
Make your own custom tshirts online at Zazzle
Profits from my store go towards supporting my family.
Speaking of my store, you can find a link to the WTBL new items up along the top. It'll take you here. I actually own the pink shirt. No joke, I love it! All items in the WTBL store are great ways to support the blog and my family at the same time!
In closing, this cute moment:
We can't watch Netflix on our TV because we have no means, but our tv is tiny anyway, so it's no big deal to just watch on the computer. This becomes complicated, however, when the entire family wants to watch something.
So our solution last night was to pull a couch around to face my computer, pull my monitor to the edge of my desk, and snuggle close to watch. This is how the boys and I watch Galaxy Quest last night. It was the best way ever to watch a horribly cheesy movie.